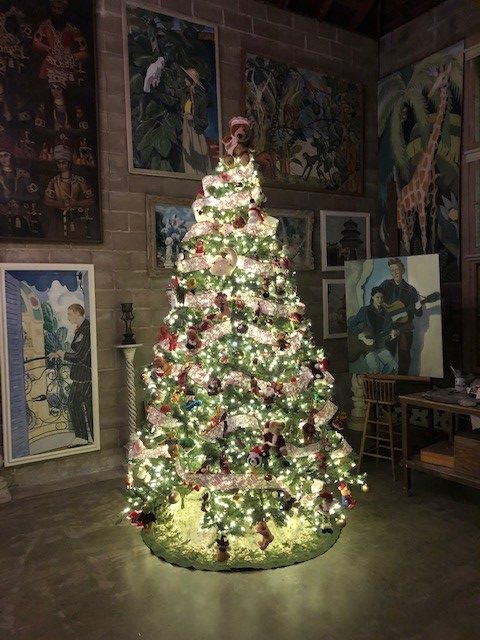 The Holidays are always such a special time here at Bonnet House Museum & Gardens. It's hard to believe that this festive time of year is just  around the corner once again. Although we will not be able to celebrate in the same way as we have in years past, the dedicated team at Bonnet House will do their best to ensure that guests can safely experience the magic of the Holiday season here at this beautiful estate.
In order to share some much-needed cheer with the community this Holiday season, our fantastic volunteer team of designers will be decorating festive trees, wreaths, and centerpieces that will be on display throughout the estate. Guests can also enjoy a self-guided tour experience that includes the beautifully adorned trees, wreaths and centerpieces featured within the exhibit rooms. These stunning decorations will be on sale and available for purchase, with 100% of the proceeds benefiting Bonnet House Museum & Gardens.
The Holiday Evening Tours will take place Wednesday, December 16th, Thursday, December 17th, and Friday, December 18th from 6:00pm to 8:00 pm. The admission rate is $25 for adults, $10 for children between the ages 11-17, and free for kids 10 and under. It is important to note
that tickets must be purchased in advance, and only 50 tickets will be sold for each of these evening tours to promote physical distancing.
Guests (except children 2 years old and younger) must also wear masks/face coverings. "The Holiday programs we began offering in 2017 have rapidly become a community favorite," said Bonnet House CEO Patrick Shavloske. "It's a testament to our staff and volunteers that even a pandemic doesn't damper their holiday spirit, creativity and love of Bonnet House."
We hope that you and your loved ones can celebrate the joy of the Holiday season with us at Bonnet House Museum & Gardens this year. To learn more about our Holiday Evening Tours and to purchase tickets, click here .