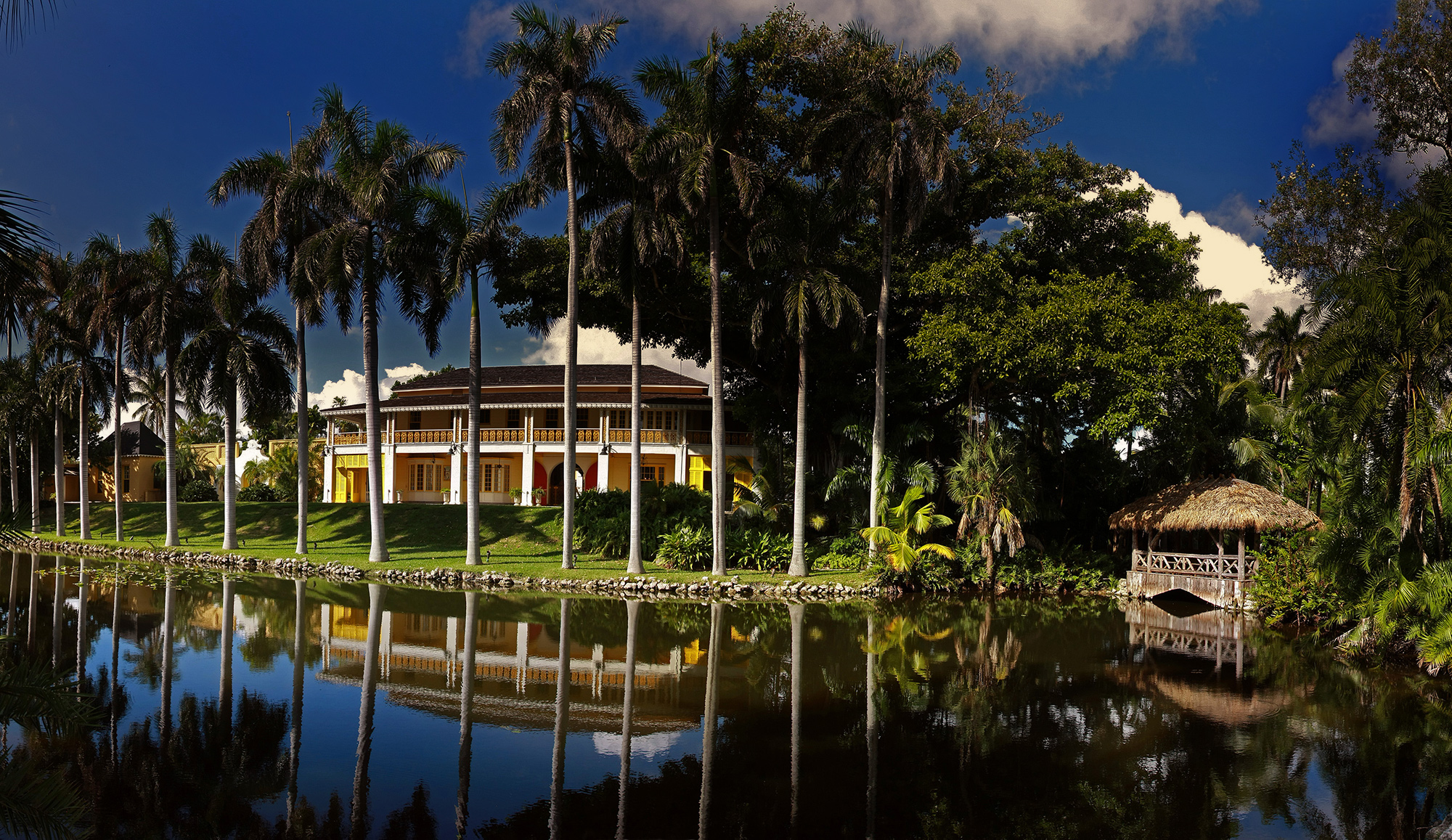 A recent visit to Fort Lauderdale Beach revealed that this location, once infamous for its Spring Break partiers, continues to evolve into a high-end and family-oriented destination.  A luxury-laden Conrad hotel is poised to open in September while construction on a new and sure to be opulent Four Seasons hotel is also well underway.  But, this level of refinement and luxury is not really all that new to Fort Lauderdale.  Just a few blocks north of these new properties is a place where refined elegance and languid tropical winter days were always commonplace—if only for a few treasured and invited guests.
Nestled near the intersection of State Road A1A and Sunrise Boulevard lies Bonnet House.  This historic estate, once the winter home of artist Frederic Clay Bartlett and his wife Evelyn Fortune Bartlett, is today a historic house museum centered on thirty-five acres of beach front property.  The Bartletts knew how to entertain their fifty closest friends, and they often did in the summer months at their home in Beverly, Massachusetts.  But winters at Bonnet House were different.  Dinner parties there were typically limited to six or eight close friends spending a week of their own Florida winter retreats with the Bartletts.  In the early days of the 1930s and 40s, the beach at Fort Lauderdale was far more placid and secluded than it is today.  A1A was little more than a country road, so crossing it to the Bartlett's private beach was a leisurely stroll.  That also made it easy for Bonnet House's butler to serve morning and afternoon refreshments by the sea to the Bartletts and their invited guests.
Meals were taken outside in the courtyard of the Caribbean-style home Frederic designed himself (a close acquaintanceship with Frank Lloyd Wright and Howard Van Doren Shaw had allowed Frederic to master the basics of building design).  A staff of thirteen was on hand to see to the needs of guests and upkeep of the property.  Dinner began with cocktails in the Bamboo Bar.  Martinis were always on hand though a house cocktail made with Rangpur lime juice and Mount Gay rum was also on offer.  Meals would have a classical French flare, not unexpected as one of Evelyn's chefs had worked for Charles De Gaulle.  Coquilles St. Jacques would of course be served in a scallop shell and cut aspic and black truffle adornments to the main offering would have been de rigueur.  Sea breeze from the Atlantic and the distant sound of waves would make for a comfortable night in the days before air conditioners hummed.
For the Bartletts, Bonnet House was a haven on many levels.  The comparatively relaxed ambiance contributed to the creative spirit of the place.  Frederic continued to paint there into his golden years and earlier encouraged Evelyn to nurture her own innate artistic talent.  This led to a period in the 1930s when Evelyn's paintings were exhibited to rave reviews at galleries such as the Wildenstein in New York City.  Her art in particular was inspired by the natural surroundings of Bonnet House.  Evelyn's love of animals was on display there too.  Pets were an integral part of her life including dogs, parrots, swans, and even monkeys.  While sociable within their circle, the Bartletts were also private by nature.  No wonder they placed such value on the estate's extensive grounds that set Bonnet House in a world apart as the population of Fort Lauderdale beach grew around them.
Frederic died in 1953, but Evelyn continued to thrive at Bonnet House.  Her last winter there was in 1995 when she was 107 years old.   Recognizing Bonnet House as the treasure it is, Evelyn preserved the estate by giving it to the Florida Trust for Historic Preservation.  As a result of her generosity, visitors can experience what life was like on a beachfront estate in the 1930s and 40s.  Walking the forested nature trails, one can easily forget that a bustling beach community is just yards away.  The house and its furnishings are practically unchanged.  Never a slave to fashion, the Bartletts defined their own sense of style early on and stuck with it as the years passed.
Today, guided tours of Bonnet House immerse visitors in Frederic and Evelyn Bartlett's unique lifestyle.  Art and daily living remain inextricably linked with Frederic's decorative painting forming a prominent element of the principal rooms and living spaces.  The dining room and butler's pantry recall days when chefs schooled in the classical tradition created their own culinary artistry, enhanced by Spode and Davenport dinner services.  Former guest rooms now display a collection of paintings by Evelyn while the art studio houses works by Frederic, many on a grand scale.  Seeing artists painting on the grounds is not uncommon in a nod to the creative legacy of Frederic and Evelyn.  From January to April, concerts are held on a monthly basis.  An orchid festival is held each December, inspired by Evelyn's love of these plants and the 5,000 specimens that remain part of the Bonnet House orchid collection.
While known for its meteoric growth, South Florida is also becoming defined for its embrace of the good life.  Then again, maybe Bonnet House proves that what's old is new again.