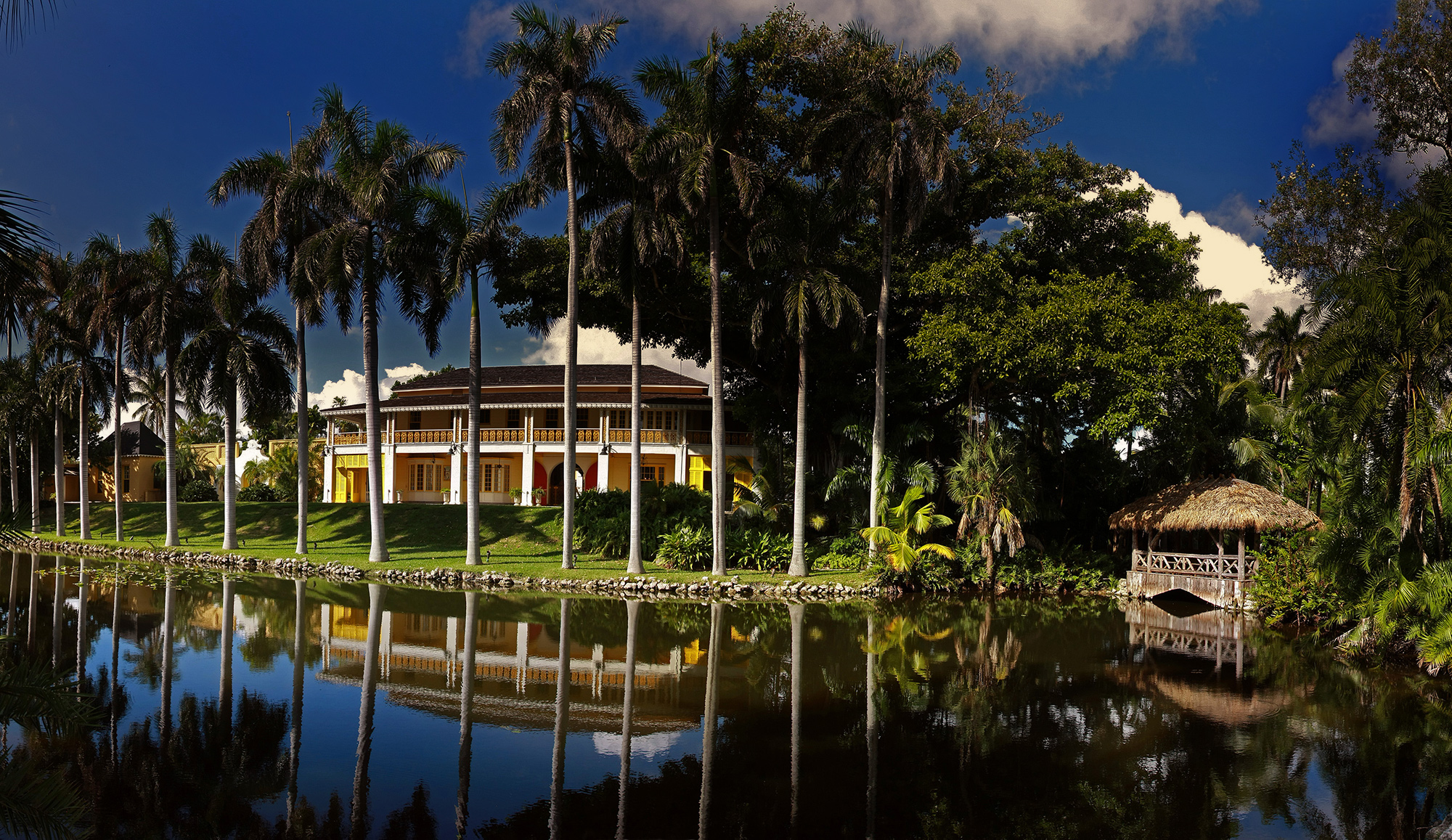 Here at Bonnet House Museum & Gardens, there is so much to see! As the name suggests, our estate includes both an indoor museum area, in addition to vast outdoor garden trails. As guests explore Bonnet House, we do our best to ensure that everyone is able to see and learn as much on their visit as possible. However, from the beautiful flora and fauna that occupy our expansive gardens, to the grand design of the historic home, it can be easy to miss some important areas. To help our guests make the most of their visit, we have compiled a list of a few things everyone should expect to see and experience at Bonnet House Museum & Gardens!
Constructed in 1920 on 35-acres of a native barrier island ecosystem, and included on the National Register of Historic Places, Bonnet House is one of the few complete homes and studios of two American artists that is open to the public. The Main House is filled with a collection of art and the personal treasures of the Birch and Bartlett families. Since Bonnet House's construction, much of the natural barrier island habitat has been lost to commercial development. But a walk along our nature trails will transport guests back in time to experience a rare piece of old South Florida.
Upon arriving to Bonnet House, guests will enter through the welcome center to purchase tickets. The cost to enter is $20 for adult admission and $16 for children ages 6-12 years old (children under six are free). Our hours of operation are 9:00am – 4:00pm Tuesday – Sunday. Guided tours are available daily at 9:30am, 10:30am, 11:30am, 12:30pm, 1:30pm, 2:30pm, and 3:30pm. For our guests that would only prefer to take a self guided tour of our gardens, $10 tickets can be purchased at the front office as well. Reservations are not required for these general admission tours.
After tickets have been purchased, guests will walk past the Boat House, fruit grove, and the caretakers cottage (currently our gift shop) before arriving at the Main House. The guided house tours begin at the front door, but guests are free to explore the gardens until their tour begins. Inside the Main House, guests will get to experience Frederic Bartlett's interpretation of a Caribbean-style plantation home, and learn about the estate details, as well as the unique lives of Frederic and Evelyn Bartlett.
But there is so much more to the estate than just the Main House and garden trails. Across from the entrance to the Main House is our Shell Museum Complex, containing shells from around the world, an Orchid House and the Bartlett's private Bamboo Bar. This complex contains hundreds of shells from all over the world, and displays one of the largest orchid collections in the US. Also on the property is an Island Theater with special exhibitions, two additional orchid houses, and even a small barn containing a restored 1935 Case "CC' tractor!
It isn't just the history that makes Bonnet House such a popular attraction. There are so many picturesque locations throughout our gardens that should not be missed. Overlooking the Lily Pond is our beautiful Pavillion, where the Bartletts would often entertain guests. Also on the property is a spectacular fountain, added in 1942. It is located at the end of our tree-lined allee and is constructed entirely of marble.
Whether you are a first time guest or a Bonnet House member, there is always something new to discover at our beautiful estate. If you have any additional questions about visiting Bonnet House Museum & Gardens, please call (954) 563-5393.