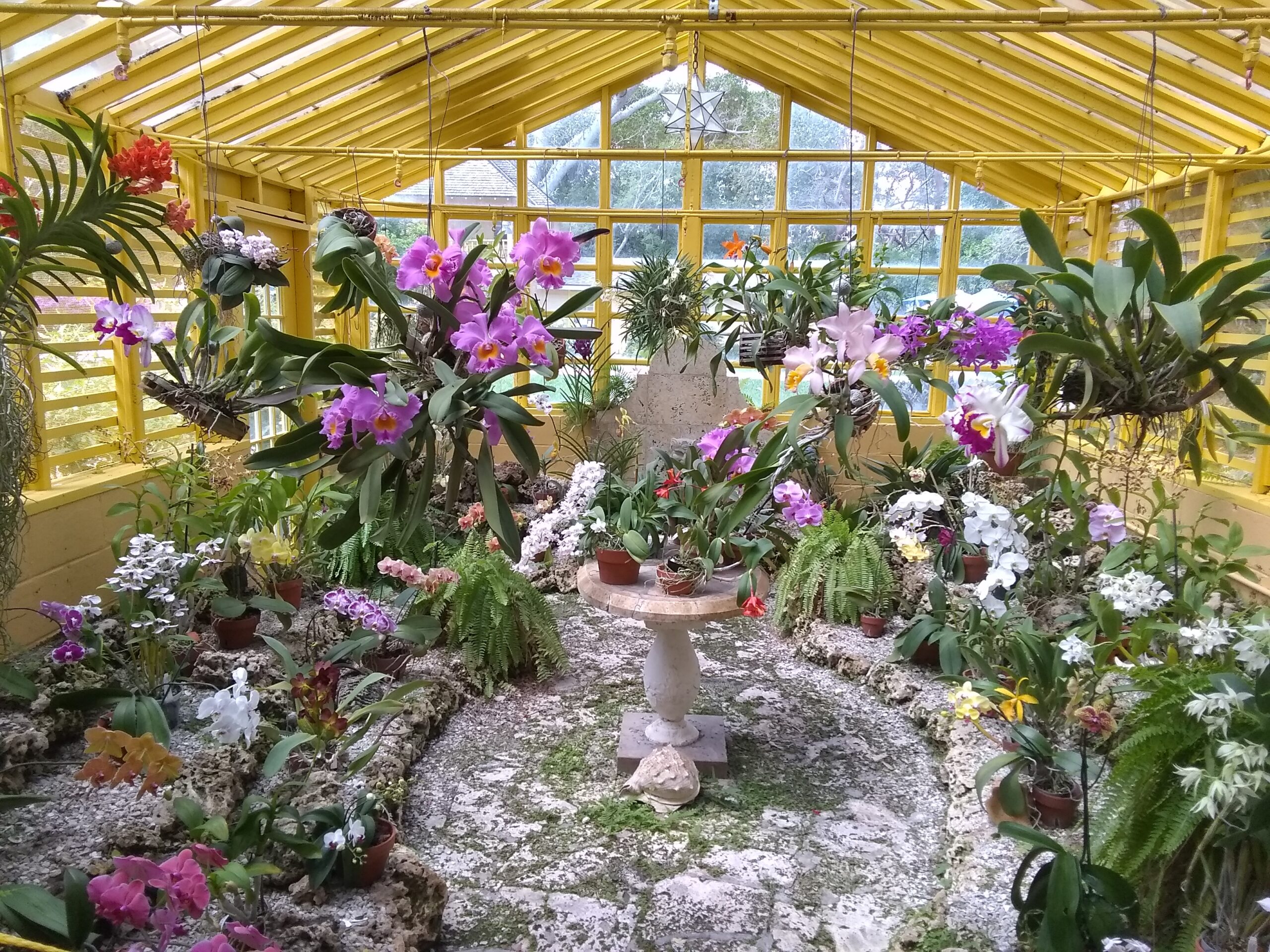 In addition to its historic significance, the Bonnet House property encompasses one of the most interesting arrays of ecosystems in the state of Florida. In fact, the property contains five distinct ecosystems including the Atlantic Ocean beach and primary dune, a freshwater slough, the secondary dune which includes the house site, mangrove wetlands, and a maritime forest. Given this fascinating assortment of natural landscapes, it is not surprising that a variety of interesting plant and animal species can be found throughout the estate grounds and gardens.
To complement the beauty of the natural vegetation, the Bonnet House grounds contain a desert garden composed of arid plantings, a hibiscus garden, and an orchid display house. Additionally, the main courtyard is planted with stunning tropical vegetation. Our property is also home to a myriad of migratory birds, manatees, raccoons, turtles, and even a wild monkey!
When it comes to the specific plant species that can be found throughout the estate, the Jaboticaba Tree and Bleeding Heart Vine are two of our most exotic varieties. The Jaboticaba Tree is often referred to as the "Brazilian Grape Tree" because it produces large quantities of dark-colored, round fruits that cover the tree's bark. Prior to producing these fruits, the tree forms white, fuzzy blooms that are stunning to view in person.
The Bleeding Heart Vine is also a crowd favorite and is especially popular among photographers. The Bleeding Heart Vine is native to the tropical regions of West Africa. When this plant flowers, their beautiful balloon-like, white and crimson petals make for a truly stunning feature. This plant will bloom for several months, so it can be enjoyed for quite a while on our property.
In addition to these exotic plant varieties, Bonnet House also features a unique selection of orchids. Visitors from all over the world enjoy visiting our orchid display house and taking our popular orchid care classes. In these courses, students will join our orchid curator, Jose Exposito, to learn about the different types of orchids, and how to care for them properly. Our next orchid care course will take place on August 8th at 9:30 am.
This spring and summer will be great times to visit the Bonnet House estate to experience the various flora and fauna that call this place home. We hope that you include a visit to Bonnet House on your next trip to Fort Lauderdale. To learn more, and plan your next visit, click here.